The ITB Asia 2020 Virtual Event is happening from 21 - 23 October 2020!
Attendees of the ITB Asia 2020 Virtual event can look forward to:

A wide variety of top-notch conference sessions helmed by leaders of the travel industry
Connecting digitally with travel suppliers
Access insights and quality content shared by the global community

Trade Visitor Registration
Registration for a Virtual Trade Visitor Pass will be available on the Virtual Ticket Shop. Registration is free and visitors will get to enjoy the following entitlements across the 3-day event: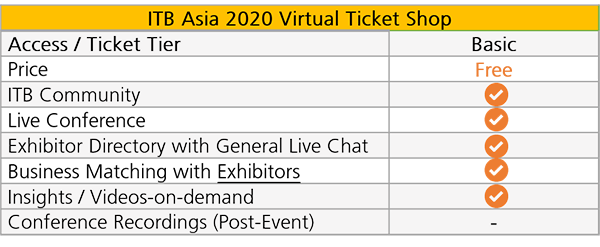 For enquiries on the ITB Asia 2020 Virtual Ticket Shop, please contact our visitor team at visitor@itb-asia.com.
---
Want to exhibit at ITB Asia 2020 Virtual? Learn more on how you can leverage on the platform to do business, network and connect with industry partners here.
Exhibiting at ITB Asia Virtual
---
Share your insights and ideas at ITB Community Insights! If you have insightful articles, standout podcasts or high quality content on travel ready to be shared, we invite you to share them with us through ITB Community Insights.