Planning Your Trip
In preparation for your trip to Singapore, we have a few travel tips for you:
1. Book your own accommodation in Singapore (only for non-hosted buyers)
**Hosted buyers' accommodation will be booked by the Buyers Team. Please do not book your own accommodation.

2. Book your own flights to Singapore
**Hosted buyers will pay for their own flights first to maximise flexibility. Reimbursement of flight costs will be done on Day 3 of the show.
Flight Arrangement for ITB Asia/MICE Show Asia (Only for Fully Hosted Buyers)
Step 1: Review Flight Reimbursement Budget indicated in approval email
Step 2: Book your flight based on the following requirements:
Arrival flight to be before 20 Oct for check-in
Departure flight to be after 23 Oct, 5pm
Take note of flight budget (all flight reimbursements are based on capped amount. Flight reimbursements will be given in cash on 23 Oct, 11am onwards, regardless of actual flight costs)
Step 3: Upload confirmed flight itinerary in Buyer's Login by 1 September 2020, under the Travel Tab. Flight itinerary is required for accommodation booking.

3. VISA Requirements
Please view more information here.

4. Cancellation of Buyer Package
Should there be a change of schedule and you're unable to make it, you may withdraw your application. For more information, please click here.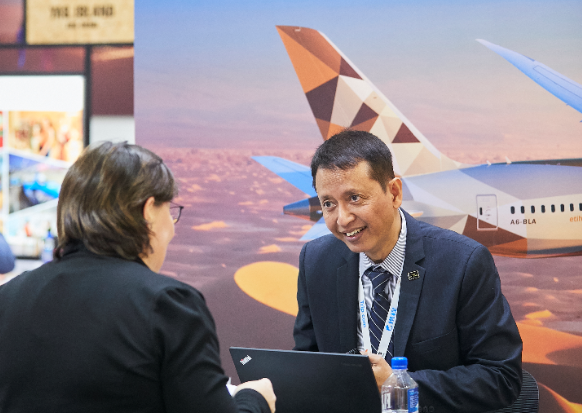 ---
I'D LIKE TO EXHIBIT
Capture the immense growth of the Asian outbound market by being an Exhibitor at Asia's largest and only hybrid show, ITB Asia.
Click Here
I'D LIKE TO BE A BUYER
Learn, network and do business as a Buyer at ITB Asia, Asia's leading travel trade show.
Click Here
I'D LIKE TO BE A SPEAKER
Be a thought-leader and join trade professionals and experts as they share their views and market opinion in an exciting 3-day conference. Come speak at ITB Asia.
Click Here
Held In
Official Partner Hotel

Organised By

Pleases tilt your device view in portrait mode for better view